CAMILLA and the world's largest independent luxury hotels collection, The Leading Hotels of the World, bring you a collaboration to transport you to the most captivating corners of Italy. Join us on a journey from the endless Amalfi coastline through the hillsides of Florence and Tuscany to the grandiose artistry of central Milan, as we reimagine six of Italy's most coveted hotels as lavish, handpainted prints. This month finds us nestled in a lavish lovers' hideaway set on the hillside of Florence, Villa Cora.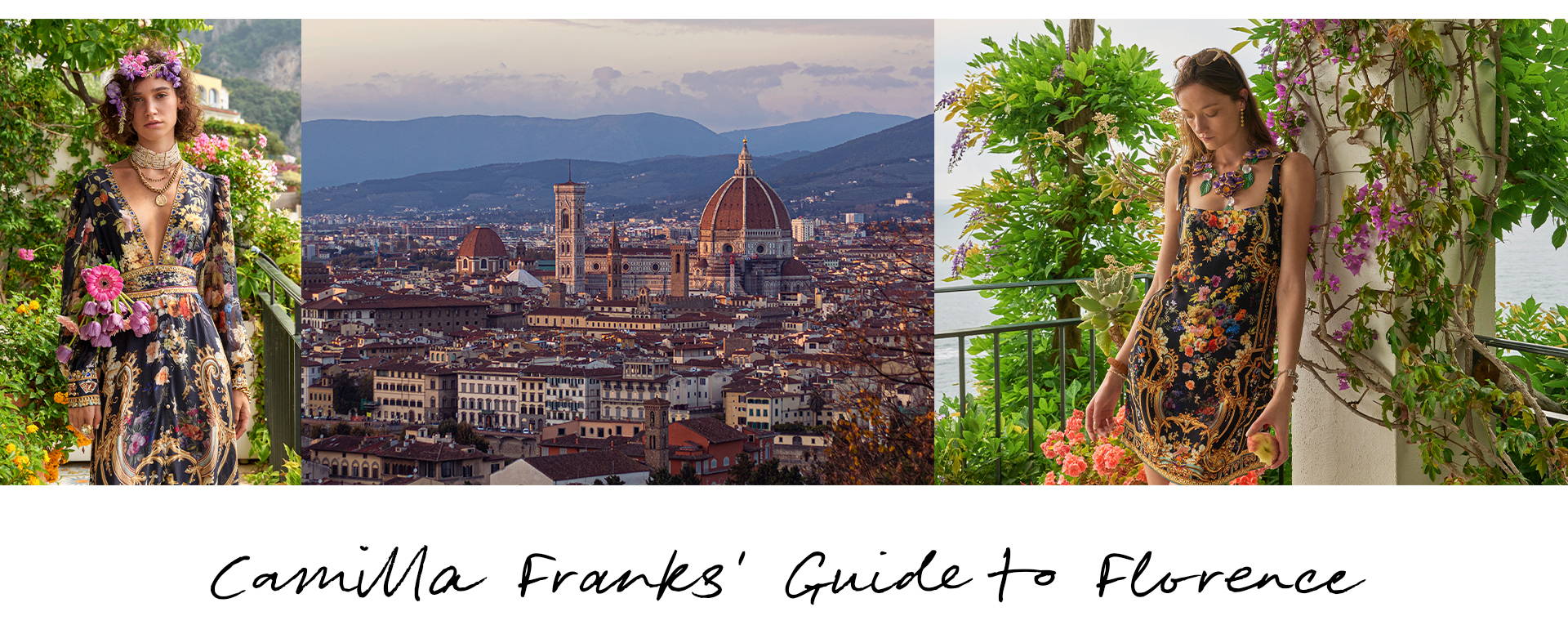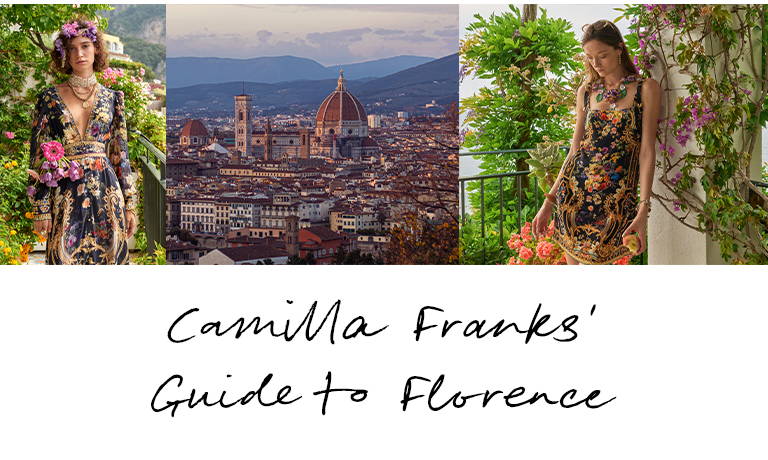 In June 2021, I spent a week under Villa Cora's spell. It was the perfect host, inspiring four prints that now feature in the Amore Mio collection. Grandly positioned in a rose-filled garden on a hillside hideaway overlooking Florence, this bigger than life 19th-century mansion feels as though it was imagined for the pages of a fairy tale.
As you depart Florence's cobbled streets and ascend a gentle hillside, the bustle of the city feels like lifetimes ago. One glance out over the historic Boboli Gardens and the rest of the world begins to slip away, replaced with the endless romance of an Italian love story.
Old-world opulence is embedded in the very soul of Villa Cora. The peach pink residence was commissioned in the 1860s by Baron Oppenheim as a gift for his wife, then purchased by Empress Eugenié, Napoleon III's widow before passing into the hands of Egidio Cora – from whom it takes its present name. Inaugurated at a time when Florence was the capital of the Kingdom of Italy, Villa Cora has played host to artists, princes, emperors, pashas and famous guests like Russian composer Tchaikovsky. If only these walls could talk.
Resplendent with floor-to-ceiling gilded mirrors, trompe l'oeil frescoes and stucco work – it's an all-embracing experience for the senses. Eat, drink, swim, dance, rest and repeat. People watch and be watched. Call it Florence fabulous, call it Villa Cora.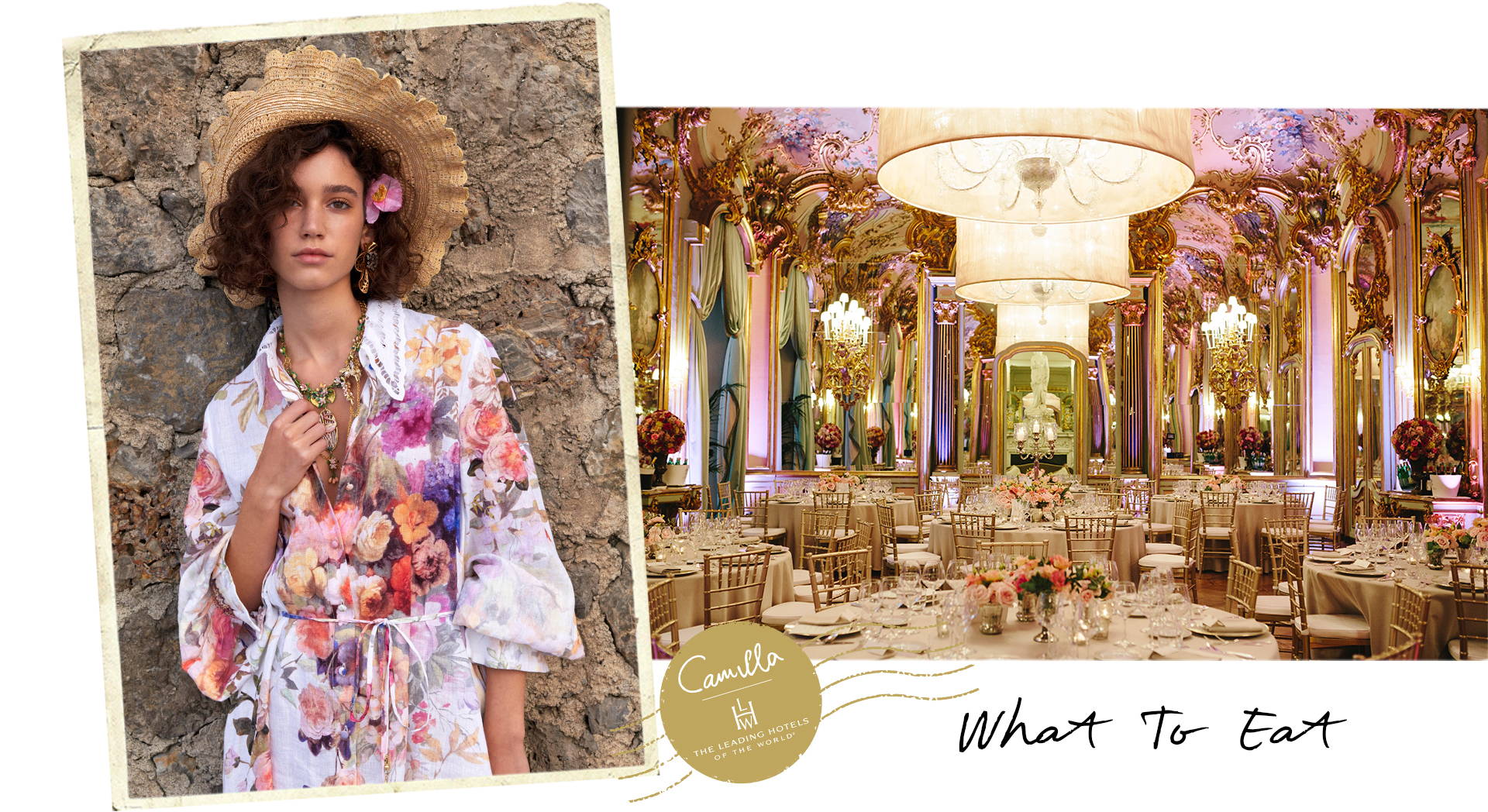 Villa Cora is a destination in its own right: a hideaway retreat that offers solitude with the romance of Florence just a short car ride away. With so much Tuscan indulgence under your eyes and nose, prepare to eat. And then eat some more.
From Villa Cora, take the short wander from your sunbed over to Restaurant Le Bistrot in between swims. The Michelin star head chef, Alessandro Liberatore, has curated a delectable menu of classic seasonal Tuscan fare using luscious local produce.
For something close by, walk down the hill and into the welcoming arms of Da Ruggero. It is understated in appearance, but don't be fooled – this family run restaurant is known to serve up the best traditional Italian in Florence. A handwritten menu lets you know they mean business, and the authentic flavours have inspired decades of loyal devotees, yet it still feels like an old-fashioned local trattoria.
In town, I opt for the best trick in the book whilst visiting a foreign city: wander around, even for a few hours, and find out where the locals are eating. Be sure to try the boar sauce at every opportunity, every restaurant heralds theirs as the best in the city – you be the judge.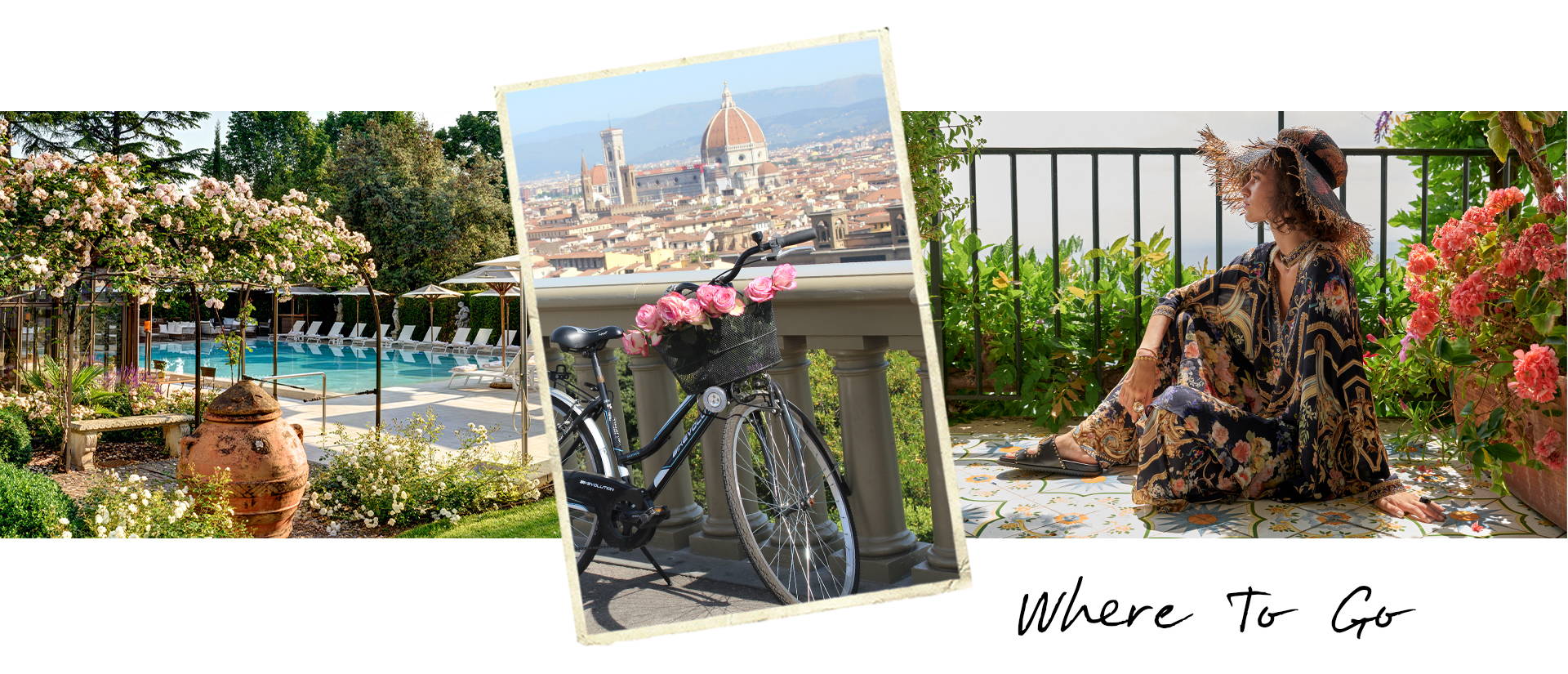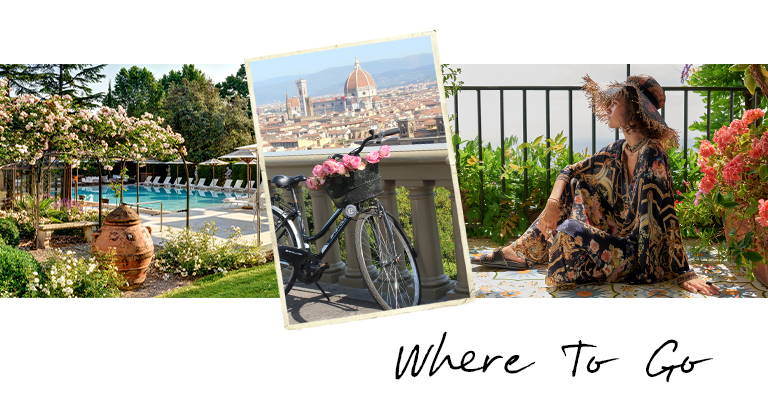 There's a reason they call Villa Cora a lover's retreat. Key word: retreat.
After a long sleep followed by a long breakfast on the terrace, retreat to the expansive pool and settle in for a long day in a sun lounger. Tell the bar staff I sent you.
For those who wish to venture beyond the golden gates, make time to head into the city. Stop in at Uffizi Gallery for bountiful dose of art dating from the Middle Ages to now. Wind through the streets and fill your arms with the best shopping in the world, ensuring to pop into the Gucci Gallery, too. In the afternoon, make your way Piazza del Duomo and order a spritz to sip while you watch the sunset over the Cathedral. Perfecto.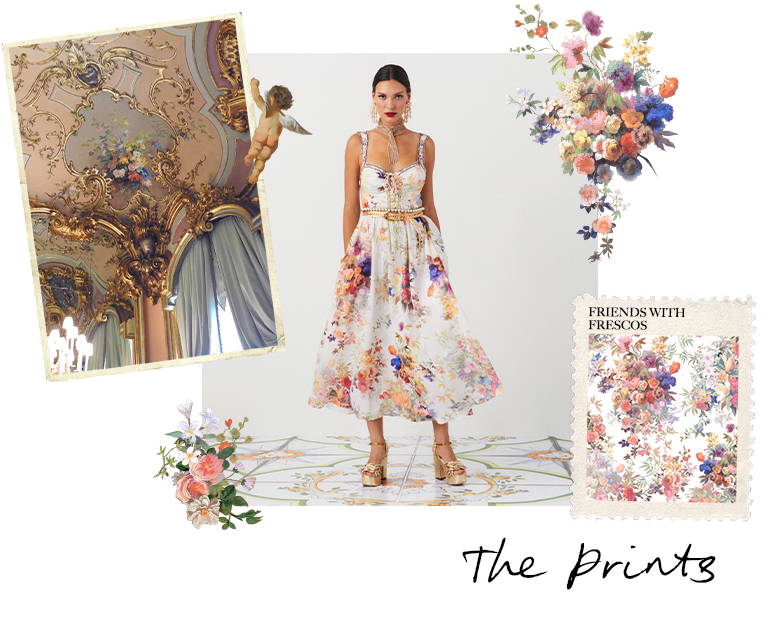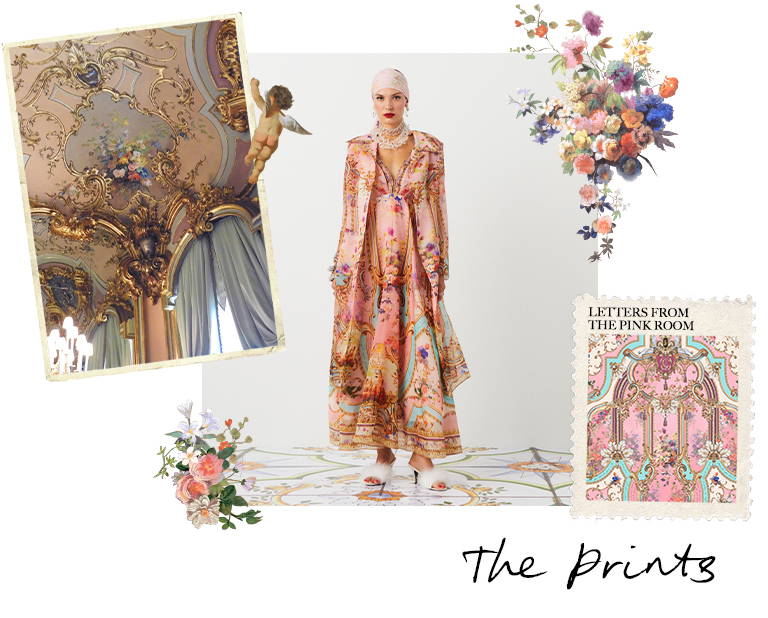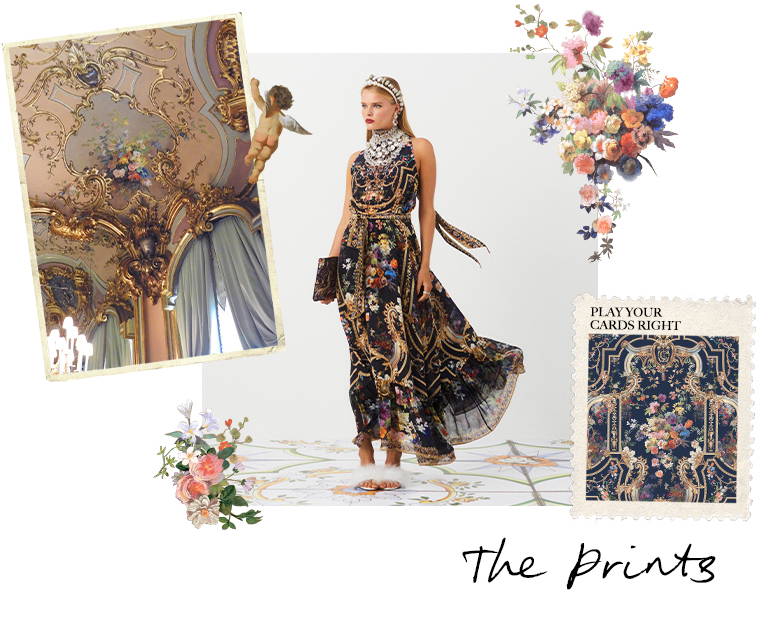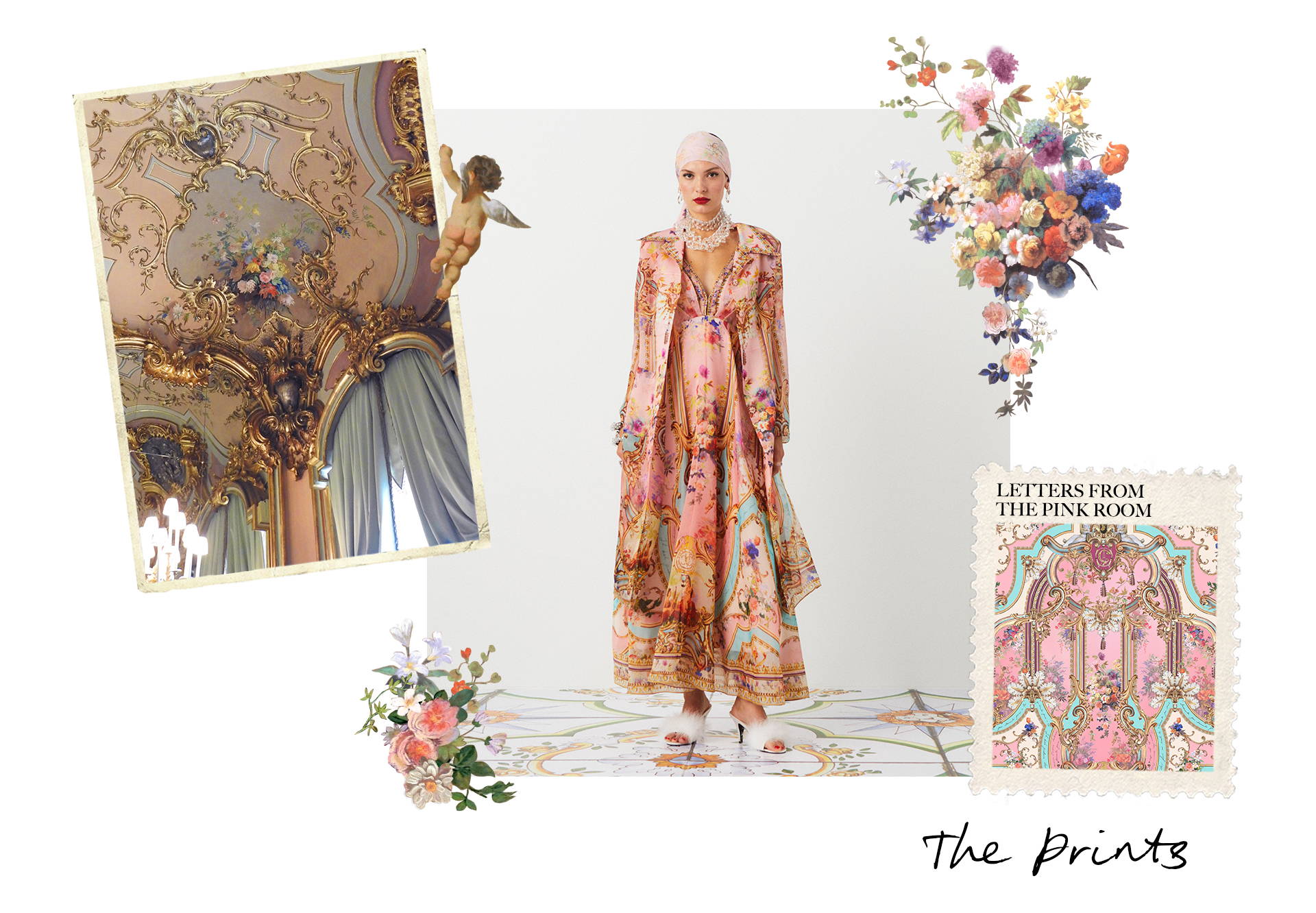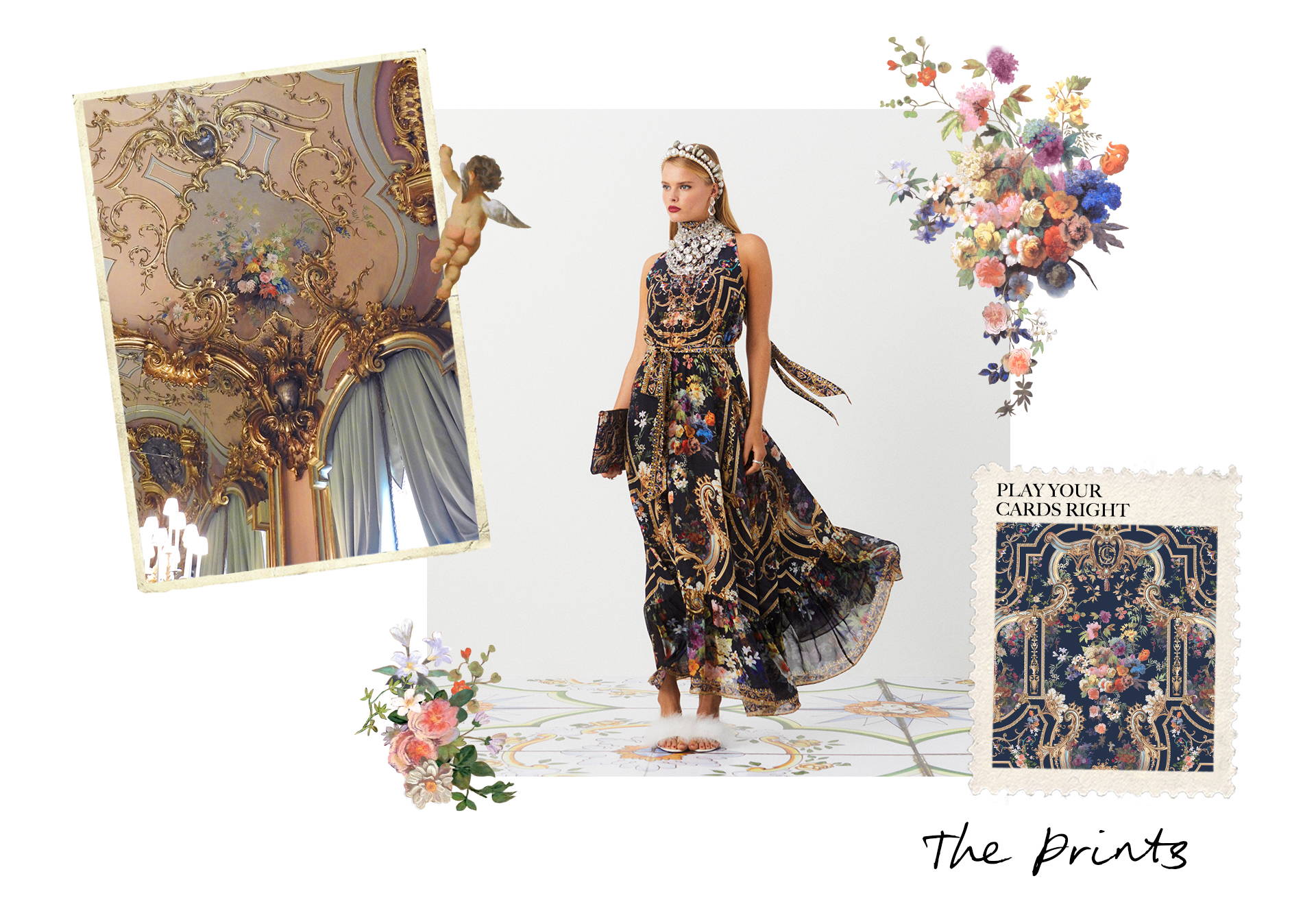 Villa Cora is the birthplace of four luscious prints from my Amore Mio collection. My creativity was sparked by the founding love story that inspired its construction: a no-details-spared gesture of grandiose devotion that not only has stood the test of time but flourished with each passing year.
These prints unfolded so fluidly within moments of arriving. The romantic pastel peach villa ushers you in to a splendour of over-the-top interiors with delectable detailing, hand painted frescos, floor to ceiling gilded mirrors, and sweeping parquet flooring, all perfectly simmered into a bohemian realm rich with Italian opulence. Weaving through the salon, reading rooms and bedrooms, each uniquely fitted with wallpapers and antiques fit for a museum, my own love affair with this hotel began to unfold, and it truly comes to life in these prints.
Letters From The Pink Room pays homage to the hotel's grandest space, featuring design details inspired by frescoes, cherubs, gold filigree, picture frames and mirrors alongside a handwritten love story that retells some of the hotel's most romantic chapters. A Gift From The Baron envisages the same room sketched in darker hues.
Play Your Cards Right reimagines the hotel's Games Room as a handpainted bespoke artwork, trimmed with playing cards and embellished in details of gilded romance. Meanwhile Friends With Frescos is a nod to the Moorish Room, which the owner created as a home-away-from-home for his Turkish friends. The print weaves a tale of ornate opulence, featuring the ceiling's central dome, Moorish architecture, tile work and marble flooring as key design details.
These prints are my love letter to you from Villa Cora. I hope they sweep you off your feet.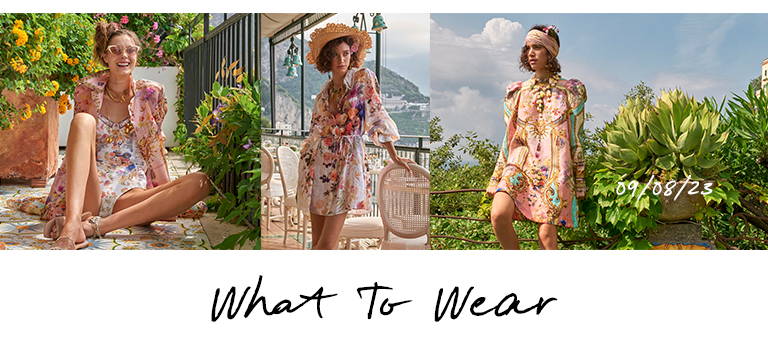 Statement is as statement does. And at Villa Cora, the greatest statement one can possibly make is to blend in. In summer, opt for bold brights. In winter, opt for expressive embellishment. Oversized sunglasses are standard, naturally.